Michael J. Morgan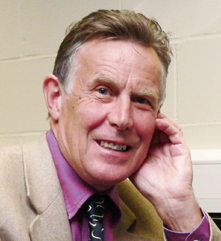 Centre for Applied Vision Research
City University London
EC1V 0HB
M.J.Morgan@city.ac.uk
---
Biography
Born in Cardiff, 25 Aug 1942.
Natural Sciences Tripos, Cambridge 1964
Ph.D Cambridge 1969 "A study of response learning in the rat".
Sc.D Cambridge 1994.
Currently Professor of Visual Psychophysics at City University London.
Previous positions at University of Cambridge (Experimental Psychology),
McGill University (Psychology), University of Durham (Chair of Psychology),
UCL (Psychology), University of Edinburgh (Darwin Fellow in Pharmacology, Centre for Neuroscience).
Research interests include Vision, Laterality, Experimental Psychology.

---
Curriculum Vitae
Click [here].

---
Grant Information
Leverhulme Trust #RPG-2016-124: A Bayesian Approach to the Control of Eye Movements in Human Subjects, Oct 2016 Ð Sep 2018, £122,047 (PI: M. J. Morgan).
Wellcome Trust grant #093280: Mapping and Remapping of Visual Space, Mar 2011 Ð Mar 2014, £314,000 (with Grant & Melmoth; PI: M. J. Morgan).
EPSRC grant #EP/H033955: Efficiency of Visual Statistics, Feb. 2011 Ð Feb. 2014, £541,000 (fEC; with Morgan, Chubb & May; PI: J. A. S.).

---
Journal Articles