International Association of Charities (AIC)
Website: http://www.aic-international.org/
Category: Humanitarian
Year of Foundation: 1617 ('Confrérie de la Charité' de Châtillon les Dombes)
Location of Foundation: Châtillon les Dombes, France
Location of Headquarters: Louvain la Neuve, Belgium
Brief Description: The International Association of Charities describes itself as 'A mainly women's association organized at world level, including more than 250,000 volunteers in 52 countries. Founded by St. Vincent de Paul in 1617 to fight all forms of poverty and injustice and to give women an active social and recognized role in a spirit of solidarity.' (Source: 'AIC Info', 16, 2009, p. 8, at www.aic-international.org; accessed 5 May 2010).
Founding Rationales:
Although the present International Association of Charities was created in 1971, it is the latest in a series of organizations starting with the 'Confrérie de la Charité' established in Châtillon les Dombes in 1617. This organization had as its purpose 'to visit and to nourish the sick poor.' The women involved found that 'in order that the good work that they had commenced should not fade away ... they were disposed to join together in a "Confrérie."' In 1634, the 'Ladies of Charity' were organized in Paris. Their constitution of 1660 was modeled on that of the 1617 'Confrérie' of Châtillon les Dombes. The 'Association of the Ladies of Charity of Saint Vincent de Paul' in Paris is the direct antecedent of the International Association of Charities.
Source: Pierre Coste (ed.), 'Saint Vincent de Paul. Correspondence, Entretiens, Documents', vol. xiii, (Paris: Librairie Lecoffre, 1924), pp. 423, 823-8.
Evolution of Participation (Volunteers):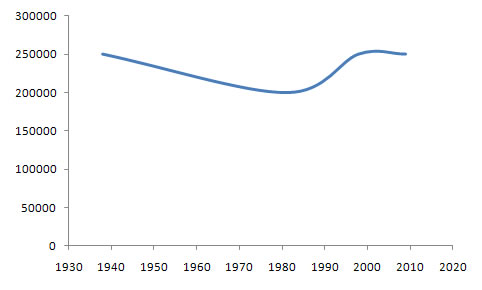 Sources: HIO; YIO; www.aic-international.org (accessed 5 May 2010).