Consumers International (CI)
Website: http://www.consumersinternational.org/
Category: Consumers
Year of Foundation: 1960
Location of Foundation: The Hague, Netherlands
Location of Headquarters: London, UK
Brief Description: Consumers International describes itself as 'the world federation of consumer groups that, working together with its members, serves as the only independent and authoritative global voice for consumers.' (Source: www.consumersinternational.org; accessed 4 February 2010).
Founding Rationales:
The initial objects of the 'International Office of Consumers Unions' were: 'a. to act as a clearinghouse among member organizations for consumer tests methods, plans and publications of consumer organisations; b. to build up an index of independent testing laboratories in various countries; c. to promote international cooperation in the field of comparative testing; d. to organise international meetings to promote comparative testing; e. to regulate the use of ratings and reprints of published material subject to such regulations as may be promulgated by the organisations concerned; f. to give grants to non-commercial organisations dealing with consumers' interests; g. to publish information on subjects connected with consumers' interests; h. and in general to take such actions as may further the objects of the "Stichting".'
Source: Articles of Association adopted on 1 April 1960, printed in Foo Gaik Sim, 'IOCU on Record: A Documentary History of the International Organization of Consumers Unions, 1960-1990' (Yonkers, NY: Consumers Union, 1990), pp. 32-33.
Evolution of Membership (Organizations):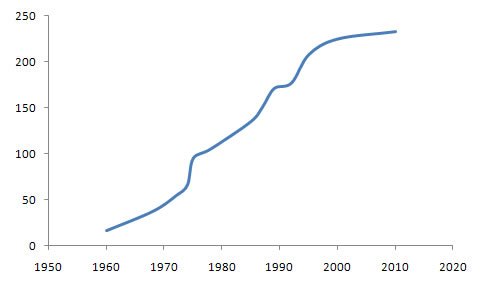 Source: Consumers International, '50 Years of the Global Consumers Movement' (London: Consumers International, 2009), pp. 2-10; www.consumersinternational.org (accessed 4 February 2010).