Global Call to Action against Poverty (GCAP)
Website: http://www.whiteband.org/
Category: Development
Year of Foundation: 2004
Location of Foundation: Johannesburg, South Africa
Location of Headquarters: Johannesburg, South Africa
Brief Description: The GCAP describes itself as 'a growing alliance that brings together trade unions, INGOs, the women's and youth movements, community and faith groups and others to call for action from world leaders in the global North and South to meet their promises to end poverty and inequality.' (Source: www.whiteband.org; accessed 9 April 2010).
Founding Rationales:
The International Facilitation Group (IFG) of the GCAP was set up in 2004 with the following purposes: 'facilitate outreach to encourage a wide range of organisations to become involved in the GCAP; develop a logo and slogan as well as other common material e.g. toolkits and for all countries/groups willing to participate in the action; facilitate co-ordination of policy development and share information on lobbying opportunities; facilitate the preparation of the white bands or other agreed symbolic actions; liase with participating organisations and others — including the UK 2005 G8 Group and the UN — to ensure effective planning and coordination of events and actions internationally; undertake international co-ordination of planned events and actions; ensure information flow up and down by regular consultation with the Global Action Forum e.g. by regular monthly updates, sharing agendas minutes of the Co-ordination Group for comments and inputs; the IFG will not undertake fundraising activities; any initiatives at national level will only be taken in co-operation with the national coalition there; guidelines for media work to be developed by the IFG.'
Source: Global Call to Action against Poverty, 'Johannesburg Statement. September 2004' (available from http://www.whiteband.org/about-gcap/reports/ift/archives-2003-2005 - accessed 9 April 2010).
Evolution of Participation in GCAP Events: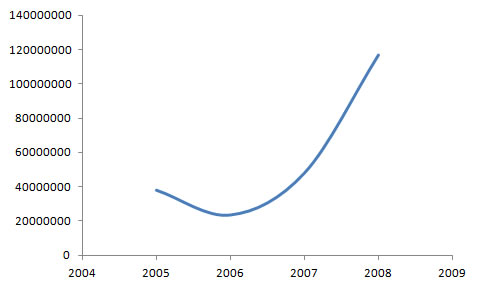 Source: http://www.whiteband.org/about-gcap/what-is-gcap/history-of-gcap (accessed 9 April 2010).