International Association of Athletics Federations (IAAF)
Website: http://www.iaaf.org/
Category: Sport
Year of Foundation: 1912
Location of Foundation: Stockholm, Sweden
Location of Headquarters: Monaco
Brief Description: The International Association of Athletics Federations describes itself as 'the world governing body for the sport of Athletics.' (Source: Article 1 of its consitution at www.iaaf.org; accessed 6 April 2010).
Founding Rationales:
At the 1912 Stockholm Olympic Games, it was noted that 'The Committees that had to make the arrangements for the Olympic competitions in athletics were, first of all, seriously inconvenienced by the fact that there does not exist any standard-programme for the competition in this division of the Games. ... Another question, the early and satisfactory solution of which is also a matter of great importance, is the fixing of uniform rules and regulations for the competitions.' An International Federation for Amateur Athletics was set up after the Stockholm Games in July 1912 to address these issues; its initial constitution was adopted at a congress in Berlin in the following year.
Source: Erik Bergvall, 'The Fifth Olympiad. The Official Report of the Olympic Games of Stockholm 1912 issued by the Swedish Olympic Committee.' (Stockholm: Wahlström & Widstrand, 1913), pp. 420-21.
Evolution of Membership (National Groups):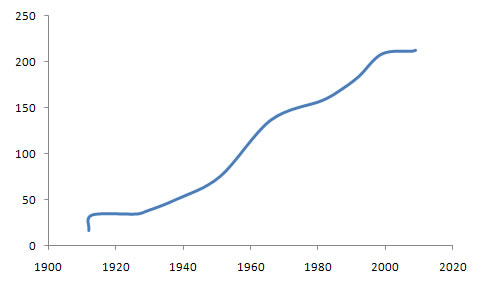 Sources: HIO; YIO; EAIO; www.iaaf.org (accessed 6 April 2010).