International Air Transport Association (IATA)
Website: http://www.iata.org/
Category: Business
Year of Foundation: 1945
Location of Foundation: Havana, Cuba
Location of Headquarters: Montreal, Canada
Brief Description: IATA describes itself as 'an international trade body, created over 60 years ago by a group of airlines. Today, IATA represents some 230 airlines comprising 93% of scheduled international air traffic. The organization also represents, leads and serves the airline industry in general.' (source: www.iata.org; accessed 19 May 2010)
Founding Rationales:
IATA's 1945 Articles of Association defined its aims as: 'to promote safe, regular and economical air transport for the benefit of the peoples of the world, to foster air commerce, and to study the problems connected therewith; to provide means for collaboration among the air transport enterprises engaged directly or indirectly in international air transport service; to cooperate with the newly created International Civil Aviation Organization and other international organisations.' 
Sources: www.iata.org (accessed 19 May 2010); John C. Leslie, 'International Air Transport Association: Some Historical Notes', Journal of Inter-American Studies and World Affairs, 1971, p. 328.
Evolution of Membership (Airlines):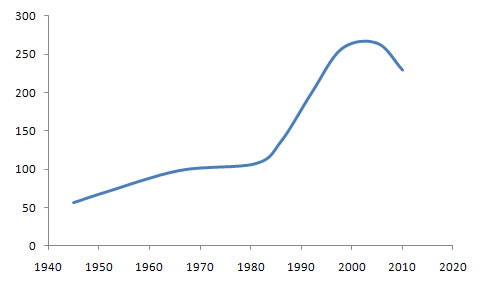 Sources: YIO; EAIO; www.iata.org (accessed 19 May 2010).