International Council of Ophthalmology
Website: http://www.icoph.org/
Category: Health
Year of Foundation: 1927
Location of Foundation: Scheveningen, Holland
Location of Headquarters: San Francisco, CA, USA
Brief Description: The International Council of Ophthalmology describes itself as working 'with ophthalmologic societies and others to enhance ophthalmic education and improve access to the highest quality eye care in order to preserve and restore vision for the people of the world.' (Source: www.icoph.org; accessed 14 April 2010).
Founding Rationales:
The roots of the International Council of Ophthalmology can be traced back to the Brussels Ophthalmological Congress of 1857. It was noted in the congress proceedings that the organizing committee for the congress aimed to 'serve as a means of uniting the opthalmologists of all countries ... in a more direct, more effective, more close, more lively fashion' than had been achieved by the Annales d'Oculistique, which in turn had been established to overcome the problem that 'the developments in the opthalmological domain, numerous as they were, remained isolated and, in a way, sterile.'
Source: Le Dr Warlomont, 'Congrès D'Ophthalmologie de Bruxelles. Compte-Rendu.' (Paris: Victor-Masson, 1858), pp. vii-viii.
Evolution of Membership (countries with members):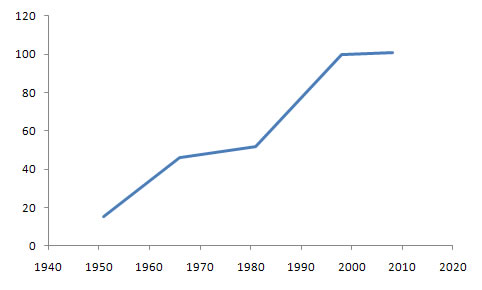 Source: YIO