International Law Association
Website: http://www.ila-hq.org/
Category: Law
Year of Foundation: 1873 (as Association for the Reform and Codification of the Law of Nations)
Location of Foundation: Brussels, Belgium
Location of Headquarters: London, UK
Brief Description: The International Law Association describes itself as an association which 'has branches around the world and a growing membership of academics and practising professionals with an interest in international law. The main objectives of the Association are the study, clarification and development of both public and private international law.' (source: www.ila-hq.org; accessed 9 April 2010).
Founding Rationales:
At the first conference of the Association for the Reform and Codification of the Law of Nations held in Brussels in 1873, Thomas Webster stated: 'That this Association shall consist of jurists, economists, legislators, politicians and others taking an interest in the Reform and Codification of Public and Private International Law, the settlement of disputes by arbitration, and the assimilation of the laws, practice and procedure of nations in respect of such law.' A resolution was passed stating: 'Considering that the Institute of International Law founded at Ghent ... is an exclusively scientific association ... that the Committee promoting the Brussels Conference is not merely composed of jurists, but also of distinguished politicians, publicists, economists, and philanthropists, and that its object is to further the progress of International Law in its practical application and in public opinion.'
Source: The International Law Association, 'Reports of the First Conference held at Brussels, 1873, and of the Second Conference held at Geneva, 1874.' (London: West, Newman & Co., 1903), pp. 44-6.
Evolution of Membership: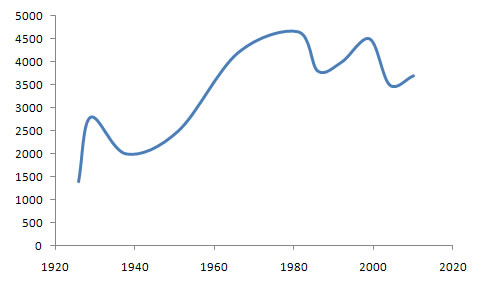 Sources: AVI; HIO; YIO; EAIO; www.ila-hq.org (accessed 12 April 2010).