International Planned Parenthood Federation (IPPF)
Website: http://www.ippf.org/
Category: Health
Year of Foundation: 1952
Location of Foundation: Mumbai, India
Location of Headquarters: London, UK
Brief Description: The International Planned Parenthood Federation describes itself as 'a global service provider and a leading advocate of sexual and reproductive health and rights for all.' (Source: www.ippf.org; accessed 4 February 2010).
Founding Rationales:
At the International Congress on Population and World Resources in Relation to the Family held in Cheltenham, UK, in 1948, Mrs Margaret Sanger left a message stating: 'We need world-wide co-operation of all groups and persons to promote knowledge of population trends and world resources in relation to the standards of family needs. It is no longer a local or national problem; it is worldwide, and should be on the agenda of the United Nations. All concerned with the problems of family planning, planned parenthood or birth control in each nation should be brought together to join in common cause and work out a programme to educate or spread knowledge of contraception gained in other countries, to the people who need it. The formation of an international organisation is one of the most important steps to be taken at this crucial period in our world of insecurity, and this act in itself will make this Congress memorable in the history of our civilisation.' A committee was set up at this Congress to draw up a constitution for a permanent international organisation.
At the Third International Conference in Mumbai, India, 1952, the International Planned Parenthood Federation was established. Mrs Rama Rau 'commented on the fact that for the first time representatives of several Asian nations had been able to come together with those from western countries in a great international gathering, and expressed the view that the Conference offered a unique opportunity for establishing a firm international link between such countries. Mrs. Rama Rau said: "i think an organisation gains much greater strength when it is developed first of all on a national basis and then establishes an international link." Her suggestion that an international organisation be set up was strongly supported by Dr. Kan Majima and by Dr. Abraham Stone who took the opportunity to trace briefly the events which had led up to the formation of the International Committee on Planned Parenthood.'
Sources: Family Planning Association of Great Britain, 'Proceedings of the International Congress on Population and World Resources in Relation to the Family. August 1948. Cheltenham, England.' (London: H. K. Lewis, 1948), pp. 238, 245; Family Planning Association of India, 'The Third International Conference on Planned Parenthood. Report of the Proceedings, 24-29 November, 1952. Bombay, India.' (Bombay: The Family Planning Association of India, 1952), p. 202.
Evolution of Membership (Organizations):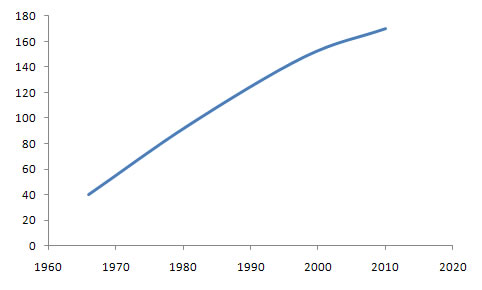 Sources: YIO; www.ippf.org (accessed 4 February 2010)