International Textile Manufacturers Federation (ITMF)
Website: http://www.itmf.org/
Category: Business
Year of Foundation: 1904
Location of Foundation: Zürich, Switzerland
Location of Headquarters: Zürich, Switzerland
Brief Description: The International Textile Manufacturers Federation describes itself as 'an international Association for the world's textile industries, dedicated to keeping its world-wide membership constantly informed through surveys, studies and publications and through the organization of annual conferences, participating in the evolution of the industry's value chain and publishing considered opinions on future trends and international developments' (source: http://www.itmf.org/; accessed 19 January 2010)
Founding Rationales:
At its founding congress, the President of the British Federation of Master Cotton Spinners, Mr. C. W. Macara, presented a paper on 'Organisation', which stated: 'It is becoming more and more apparent that the great industries cannot be conducted on the lines of twenty-five years ago. Since then we have seen the developments of large combinations of labour, which have rendered the position of individual employers, or even of small associations of employers, one of increasing difficulty. We have also seen the development of great federations of capitalists, and just as peace between nations is generally maintained by being prepared for war, so in industry experience shows that complete organisation of both employers and employed tends to ensure harmonious working.'
The congress subsequently resolved to create 'a permanent International Organisation to watch over the common interest of the industry and to advise Master Cotton Spinners' and Manufacturers' Associations of the action to be taken to protect their trade.'
The first two tasks allocated to this 'committee' were: 'recognising the enormous tax the recent enhancement of prices has imposed upon all users of cotton,...to bring before the Associations here represented, the allied trades, the general public, and the Governments of the various European countries, the absolute necessity of increasing the supply of raw cotton, to enlist their sympathy and practical support in favor of all efforts to grow cotton wherever it can be cultivated with a prospect of success' and 'to bring before the notice of the Cotton Exchanges of New York, New Orleans, Liverpool, and Alexandria, the great injure done to the cotton industry by the enormous speculations, and urges (sic) all exchanges to consider what means can be adopted to prevent persons who have no interest in the trade, either as growers, merchants, spinners, or manufacturers, from operating in the market to the detriment of the whole industry and ... to bring the matter before their respective governments and to take all other steps they may consider necessary for dealing with this important question.'
Source: 'Official Report of the Proceedings of the First International Congress of Delegated Representatives of Master Cotton Spinners' and Manufacturers' Associations held at the Tonhalle, Zürich, May 23 to 27, 1904 [issued under the Direction of the International Committee appointed by the Congress],' pp. 60, 67, 72, 84.
Evolution of Membership (countries represented):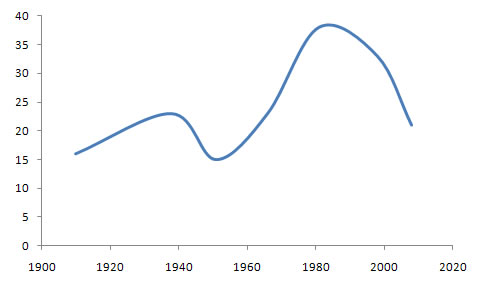 Sources: AVI; HIO; YIO