Rotary International
Website: http://www.rotary.org/
Category: Service
Year of Foundation: 1912 (year of transformation into 'International Association of Rotary Clubs')
Location of Foundation: Duluth, MN, USA
Location of Headquarters: Evanston, IL, USA
Brief Description: Rotary International describes itself as 'the world's first service club organization, with more than 1.2 million members in 33,000 clubs worldwide. Rotary club members are volunteers who work locally, regionally, and internationally to combat hunger, improve health and sanitation, provide education and job training, promote peace, and eradicate polio under the motto Service Above Self.' (source: www.rotary.org; accessed 4 May 2010).
Founding Rationales:
The 'Objects of the International Association of Rotary Clubs' adopted at the Annual Convention of Rotary Clubs at Duluth, MN, USA on 9 August 1912 were: '1. To standardize Rotary principles and practices and urge their adoption by all Rotary Clubs in so far as they may be applicable to local conditions. 2. To encourage and promote the organization of Rotary Clubs in all commercial centers of the world. 3. To study the work of existing Rotary Clubs and their value to their respective members and communities and to clear the information thus acquired for the benefit of all Rotary Clubs. 4. To promote a broad spirit of fraternity and unity of interest among Rotarian business and professional men of different cities and countries, and among the affiliated clubs.'
The 'Objects recommended by the Association for adoption by all Rotary Clubs' were: 'To promote the recognition of the worthiness of all legitimate occupations, and to dignify each member's occupation as affording him an opportunity to serve society. To encourage high ethical standards in business and professions. To increase the efficiency of each member by the exchange of ideas and business methods. To promote the scientizing of acquaintance as an opportunity for service and an aid to success. To quicken the interest of each member in the public welfare and to co-operate with others in civic development.'
In his annual report for 1912, the Association's President Paul P. Harris stated: 'Like those of the Napoleonic forces, the ambitions of our conquest know no limitations save the limitations of the civilized world. Unlike the conquest of the Napoleonic forces, our conquest is, and will continue to be, in the interests of men and the principles which make for the practical idealization of trade.'
Source: 'The Rotarian', 3/1 (Sep. 1912), pp. 18-19.
Evolution of Membership: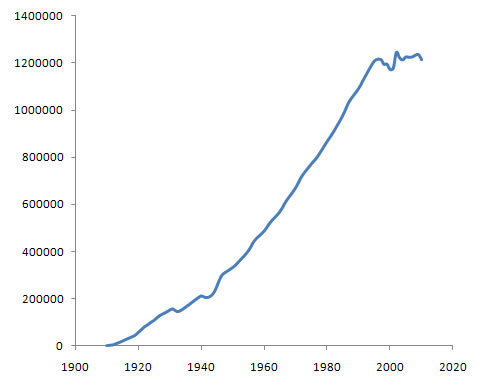 Source: 'The Rotarian' (at books.google.com) and www.rotary.org (accessed 4 May 2010).