LandSerf is a freely available application for the visualisation and analysis of surfaces. Applications include visualisation of landscapes; geomorphological analysis; gaming; GIS file conversion; map output; archaeological mapping and analysis; surface modelling and many others. It runs on any platform that supports Java (Windows, MacOSX, Unix, Linux etc.)
Features: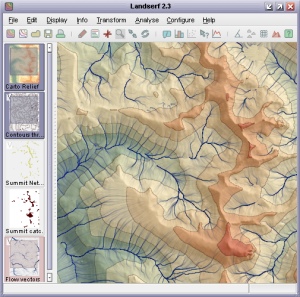 Handles multiple surface models - raster digital elevation models (DEMs), vector Triangulated Irregular Networks (TINs), contours and metric surface networks (MSNs).
Interactive 3D viewing and 'flythrough' of surfaces on platforms that support OpenGL.
A range of powerful and interactive visualisation techniques including lighting/shade models, multiple image blending and dynamic graphical query.
Fully controllable either via its attractive graphical user interface, or via scripting.
Raster and vector transformation including image rectification and map projection.
Multi-scale surface processing based on quadratic regression.
Fractal and polynomial surface generation for modelling and simulation.
Multi-scale parameter and feature extraction (slope, aspect, curvature etc.).
Import and export of common raster and vector formats.
Import and export from and to Garmin GPS receivers.
Download
LandSerf is available for Windows, Linux and MacOSX. To download right click (Ctrl-click on Mac) on the relevant link below and 'Save link as...' somewhere on your computer.
Documentation