This is an old version of LandSerf. For the latest release please visit www.landserf.org
LandSerf 2.0
Features: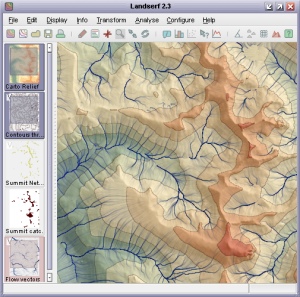 Handles multiple surface models - raster digital elevation models (DEMs), vector Triangulated Irregular Networks (TINs), contours and metric surface networks (MSNs).
Interactive 3D viewing and 'flythrough' of surfaces on platforms that support OpenGL.
A range of powerful and interactive visualisation techniques including lighting/shade models, multiple image blending and dynamic graphical query.
Raster and vector transformation including image rectification and map projection.
Multi-scale surface processing based on quadratic regression.
Fractal and polynomial surface generation for modelling and simulation.
Multi-scale parameter and feature extraction (slope, aspect, curvature etc.).
Import and export of common raster and vector formats.
Download
To download a free copy of LandSerf 2, please complete the download form.
Documentation