This is an old version of LandSerf. For the latest release please visit www.landserf.org
LandSerf Version 1.8
LandSerf is designed for the visualisation and analysis of continuous (terrain) surfaces. It is freely available for any platform that supports Java.
Features
Handles 4 types of surface model - raster digital elevation models (DEMs), vector Triangulated Irregular Networks (TINs), contours and metric surface networks (MSNs).
Full 32 bit rendering with transparency if hardware supports it.
Surface visualisation including lighting/shade models, multiple image blending.
Interactive 3D viewing and 'flythrough' of surfaces on platforms that support OpenGL.
Multi-scale surface processing based on quadratic regression.
Fractal surface generation for modelling and simulation.
Multi-scale parameter and feature extraction (slope, aspect, curvature etc.).
Dynamic statistical and graphical summaries of rasters (histograms, scatterplots, residuals etc.).
Import and export of common raster and vector formats.
Dynamic links with the Virtual Field Course (VFC) networked database (VFC hub).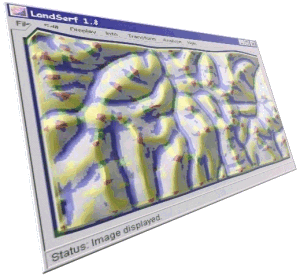 Further Information: LandSerf 1.8.0
Note: LandSerf is subject to ongoing development. It may contain bugs and inconsistencies which you are encouraged to report by emailing Jo Wood at jwo@landserf.org. Caveat actor.
Conditions of Use
Source code, bytecode and documentation for LandSerf remain Copyright, Jo Wood, 1996-2003.

You may make copies of this software and associated documentation, provided it is for personal or educational use and the original documentation remains intact. You must not sell or otherwise charge for the use of LandSerf.
This software is provided on an "as is" basis, without warranty. The author makes no representation, or warranty, either express or implied, with respect to the software programs, their quality, accuracy or fitness for a specific purpose. Therefore the author accepts no liability with respect to loss or damage caused directly or indirectly by the LandSerf software on these pages.
This software package also contains the following third party software:
Jo Wood,
Department of Information Science,
City University,
London EC1V 0HB,
UK
email: jwo@landserf.org
You do not appear to have style sheets enabled on your browser. These pages will be much improved if you use a more recent browser that supports cascading style sheets.